Welcome to our new series, "A Day in the Life of a Yoga Teacher"!  In this series, we will be revealing what you've always wanted to know about your favorite yoga teachers. For example, do they eat kale and kombucha for every meal? Do they meditate for hours on end while in headstand? Or, are they more like us normal folk than we realize? All your questions will be answered in this fun and inspiring new series. We hope you enjoy!
Julian Walker
Offering one of the most sought after classes in Los Angeles, Julian Walker is best known for his unique approach of incorporating sacred poetry, eclectic music and deep healing within his classes and workshops. His knowledge comes from an in-depth study of Somatic Experiencing, Transpersonal Psychology, Buddhist Meditation and Neuroscience, all perfectly integrated within the practice of yoga. His classes are a one of a kind experience that you must have for yourself to fully understand and appreciate! It is truly an honor to introduce to you A Day in the Life of Julian Walker.
SY: Where do you teach? And what is your teaching experience?
JW: ERYT500, Los Angeles, though I have taught all over the USA and a little in Canada.
11 years at Forrest Yoga Circle (under Ana Forrest)
15 years at Santa Monica Yoga
Total of 20 years teaching, so obviously some overlap when I was teaching at both studios! 🙂
SY: Describe your IDEAL morning routine.
JW: I actually feel that the routine I have is ideal for me. It is the result of many years of trying different things.
I think it is key to bring our idealized sense of what should be into closer and closer contact with what actually works in our lives so as to avoid being unrealistic, while still being committed to our intentions. But there has to be a feedback loop between our intentions and the reality of our lives – that's how we grow and keep it real!
SY: Describe your ACTUAL morning routine.
JW: I am actually not a morning person and I teach mostly at night, which means I don't eat until after 9 most nights and have energy to burn. I am a writer, and tend to get a lot of writing done at night… So most weekday mornings I am up around 9 a.m., and yes I do use an alarm on my iPad that plays a song to wake me up! Very nice. I follow a routine that has me drink two large glasses of cold water with a dash of pure lemon juice first thing in the morning, and then have some green tea and a protein rich breakfast within 30 minutes of rising. Usually egg whites, spinach and lentils. This keeps my blood sugar stable and gives me sustained energy for the morning. I usually spend the first hour or two of the morning getting work done: emails, bodywork scheduling, email newsletter and social media stuff, making my online videos, creating playlists etc… The next couple hours are for mental and physical fitness. I practice some combination of yoga, meditation, cardio and strength training three days a week, and do some gentle yoga and meditation on the other days. On weekend mornings this is all quite different as I have a Saturday & Sunday 9 a.m. class! I get up at 7 a.m. to give myself enough time to be awake, fed and physically warmed-up to teach. I am fortunate in that I have created a schedule for myself in which I see bodywork clients in the afternoon and teach classes at night, which leaves most mornings my own. This has been the case for many years and it is simply built into my life.
SY: Write a paragraph or 2 about your average day.
JW: The highlight of my day is usually teaching class… I know it sounds corny, but I love it. Creating experiences for my community, knowing that this is their time to be together in the shared experience of sacred space, inner work, healing and growth —and that I get to share in that, hold space for that, is truly meaningful, engaging and fun for me!
Again, I have weekday mornings free and see bodywork clients in the afternoon and have classes at night. On the weekends I teach in the mornings and mostly have afternoons and always evenings free.
I average 10 to 15 minutes a day in the car…. and that is something I have intentionally created for myself over the years so as to enjoy my life more!
I spend a good deal of time between my iPad and computer and poetry books creating the templates and raw material for the most inspiring, authentic class, workshop and retreat experiences I can share.
My family is in Europe, but I get to have a few hours each evening with my girlfriend who lives with me.
SY: Describe your evening routine.
JW: Teach classes at night and then come home to eat dinner and spend time with my girlfriend. She goes to bed earlier than I do, so I usually either am writing or reading or watching TV for a couple hours before bed
I generally shop once a week and then cook all my food for that week in a couple sessions over the next 24 hours. So it is simply a matter of heating up some delicious food from the fridge.
SY: Describe your sleep routine.
JW: I am fortunate to have a schedule that matches my night-owl temperament. So I go to bed between midnight and 1 a.m. most weeknights (between 11 and midnight on Friday and Saturday nights so I can get up at 7 a.m. the next day!)
It has to be completely dark and quiet, and I generally sleep very deeply. Sleep has never been an issue for me.
I actually also take between 15 and 30 minutes to nap after lunch most weekdays – and have done so for many years. I use meditative music and consciously relax my body and mind —like a long savasana. Very refreshing!
SY: Describe the type of yoga you teach.
JW: I teach a combination of deep stretch and flow yoga that has evolved for me over the last 24 years of practicing and 20 years of teaching.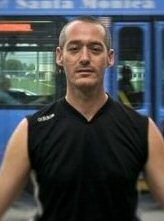 I am deeply fascinated with anatomy, psychology, tantra, the power of music and poetry and mind-body process, so I bring in a lot of ideas and techniques that are new to many yogis. My classes are first and foremost about inner work. Learning to be present with ourselves in compassionate and courageous ways. Recognizing that the mind lives in the body and that we can train our brains to work more skillfully with stress, trauma, difficult emotions and physical tension. Through doing this we can access powerful states of bliss, ecstasy, self-acceptance, insight and authentic transformation. I do some very focal stability work for the shoulders, low back and pelvis, as well as some deep stretch work that is about freeing up tension in the low back, hips, hamstrings and especially the psoas. On Friday nights I incorporate the free form dance practice that has been part of my life for 15 years. I see it as an extension of yoga —a kind of unstructured embodied meditation. It is also fun and a great work out!
SY: Most challenging part about teaching yoga.
JW: Well, honestly, as a 20 year veteran I can say that the process of building a consistent group of students and the ups and downs in attendance, especially for the first 10 years or so, creates a very challenging dynamic.
It is such a deeply personal offering we make and the path of being a teacher in this way brings up all of the unresolved issues most of us carry around self-worth, being liked, feeling seen etc —not to mention the practical issues of making a living. In this way it is an amazing opportunity to learn about ourselves and grow!
So I just want to put it out there to any new teachers that this is a normal experience and that we should support one another in this vulnerable struggle as we seek to share something we find so meaningful.
SY: Favorite part about teaching yoga?
JW: Oh my. All of it! Living the dream. People. Love. Shared experience. Watching students grow and heal and blossom. Dancing with the mysterious power of the human spirit. The deep honor of knowing people in such an intimate, profound way.
SY: Do you have a regular meditation practice?
JW: Yes, and I teach it in my free 10 day meditation challenge available on my website. It has evolved over the years but is heavily influenced by Buddhist teachers like Jack Kornfield and Pema Chodron as well as Somatic Psychology and Neuroscience. Rick Hanson's book Buddha's Brain and Jack Kornfield's classic A Path with Heart are central to my Awakened Heart, Embodied Mind teacher training. Meditation makes all the difference in my life.
Tweet it! "Meditation makes all the difference in my life."
SY: Do you practice yoga as much as you'd like?
JW: It would always be nice to do more, but generally, yes
 SY: Where do you practice?
JW: At home. I studied very intensively with Ana Forrest for 7 years, after having done a home practice for about 4 years, then went back to home practice. Often had friends over when we were all starting out in the healing arts, but many of them have kids and other jobs now. So mostly it is just me.
SY: What is your best tip for beginners who may want to try yoga?
JW: Start! Find a teacher with whom you feel comfortable. Go slow and enjoy the experience. Rest when you need to. Let it all be a mediation on your reactions, habits, limitations and watch these change as you stay patient, kind and courageous. It is not easy but it is so worthwhile, and it works!
SY: What is your best tip for sticking to a regular, personal practice?
JW: Really take in how good it feels during, but especially after and remind yourself to show up and receive that gift when next you need it!
SY: What is your best nutrition tip?
JW: Awareness. With awareness you gain knowledge of your body and with knowledge comes responsibility of providing your body with what you need. Personally, reducing junk out of my diet happened naturally because every time I ate junk I felt sick. But it all starts with a choice. Drinking lots of water every day will be a great start!
SY: What is the funniest thing that has happened while you were teaching a class?
JW: The usual: people farting loudly, me leaving out poses and being corrected by students, me going to the bathroom right before savasana and coming back to a room of people lying on their backs with eyes closed while the inappropriately rockin' next track on my playlist blared over the speakers..
SY: What is the most inspiring moment in a class you were teaching?
JW: There is a golden moment that sometimes occurs. You can't make it happen. It has to do with group synergy. Something just clicks and we are in a state of grace together. Flow. Unity. Grace. I could tear up just describing it.
"There is a golden moment that sometimes occurs…I could tear up just describing it."
SY: Why do you teach yoga?
JW: Because it is a calling. It is the only thing I could possibly do that brings together everything that has fascinated me in my life.
 If you had told me 25 years ago that I would be able to combine philosophy, movement, meditation, music, poetry, and spiritual experience into something I could share as my JOB…. I would have never believed it. 🙂
FAST QUESTIONS
SY:  Your favorite place that you have travelled to?
JW: India
SY:  Your favorite place to meditate?
JW: my living room
SY: Your hero?
JW: Nelson Mandela
SY: Coffee or Tea?
JW: Both
SY: Vegetarian, Vegan, Pescetarian, Meat
JW: Omnivorous
SY: Introvert or extrovert?
JW: Smack dab in the middle every time I have taken meyers briggs! DEEPLY value the inner life but I am also super verbal, love to express, share and be the center of attention. After a while, I get burned out and need alone time, baths, music, books, meditation… being a yoga teacher is perfect for me, I get to orchestrate a shared experience for people and then be alone most of the rest of the time.
SY: If you had to choose, meditation, asana, pranayama or chanting?
JW: Meditation
SY: If you had to choose, virabhadrasana 3, mukha vrksasana, savasana, or bakasana?
JW: virabhadrasana 3
SY: Your favorite book? 
Godel, Escher Bach: The Eternal Golden Braid by Douglas Hofstadter
 You can connect with Julian and find more information, like his teaching schedule, his free online 10-Day Meditation Challenge, his Awakened Heart/Embodied Mind Teacher Training, his world-wide workshops, Open Sky Bodywork and his Transformation Retreat at julianwalkeryoga.com. Julian's Yoga Teacher Grad. School is designed to give you the after teacher training  blueprint to success, skills and living the dream of working and thriving as a yoga teacher. You can also follow him on Twitter @embodiedsacred.
Latest posts by Kimberlyn Brown
(see all)